In the 1995 comic book Ghost World, a phantom graffiti artist haunts the main character Enid by daubing garages and walls near her LA home during a summer of change. Edith never manages to catch up with the artist but he leaves a lasting impression on the LA suburb by injecting surrealism into an already odd world.
The lockdown period has seen a quiet grenade thrown into Hatcham with an explosion of art onto our streets.
Early lockdown saw the start to discarded mattresses being transformed into an underwater seascape of fishes with bloated lips subsisting on rubbish. With most recycling centres and rubbish dumps closed because of the pandemic, people (some of the worst kind) started leaving their detritus and unwanted household goods on the streets. I even had a nasty encounter after confronting a fly-tipper on the street who called me a "bitch, who needs to get a life". Both of these things are true.
The creator of the mattress pieces, whose works can be seen all throughout Hatcham, doesn't tag his work but a neighbour who spoke to him was told his name is "Pascal". Thank you Pascal the fish man for injecting some much needed surrealism and humour onto our streets and turning trash into something interesting.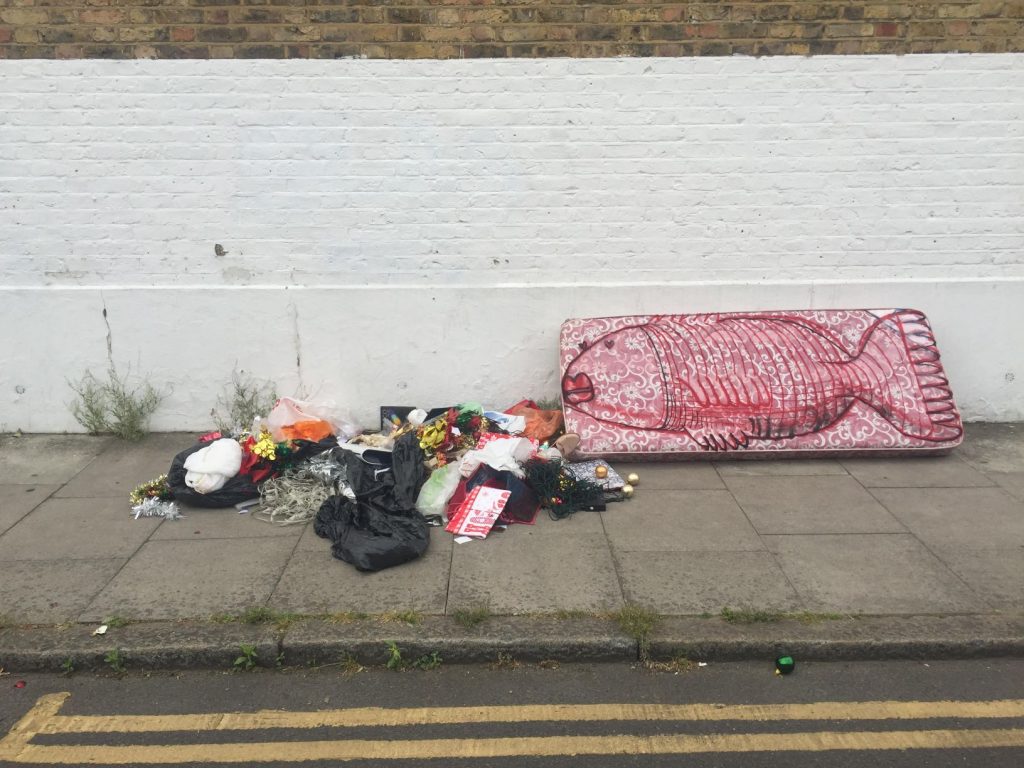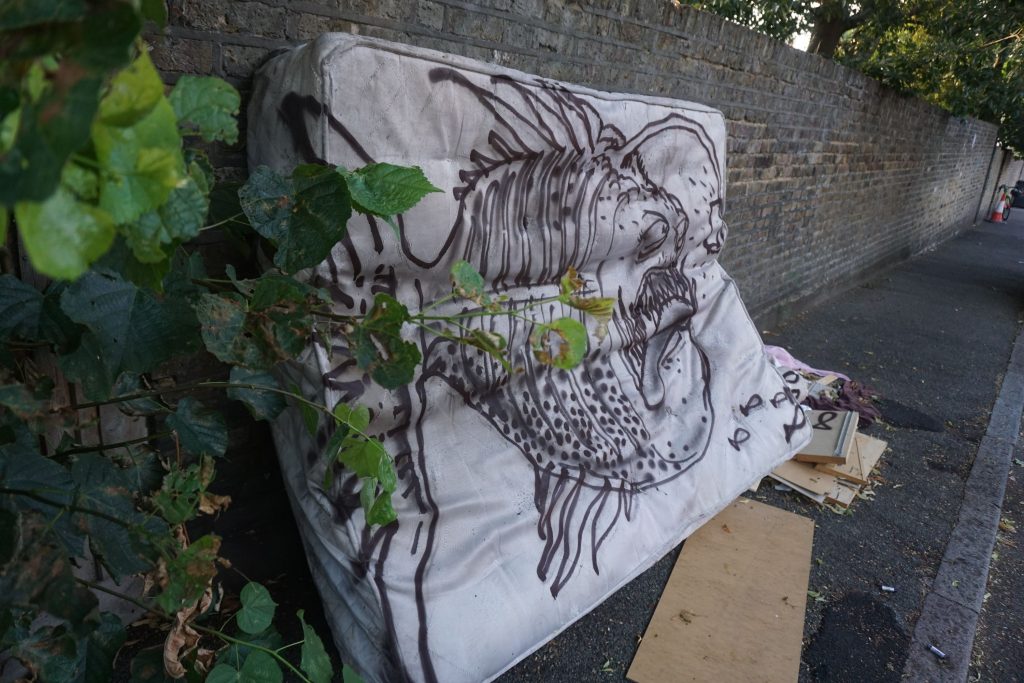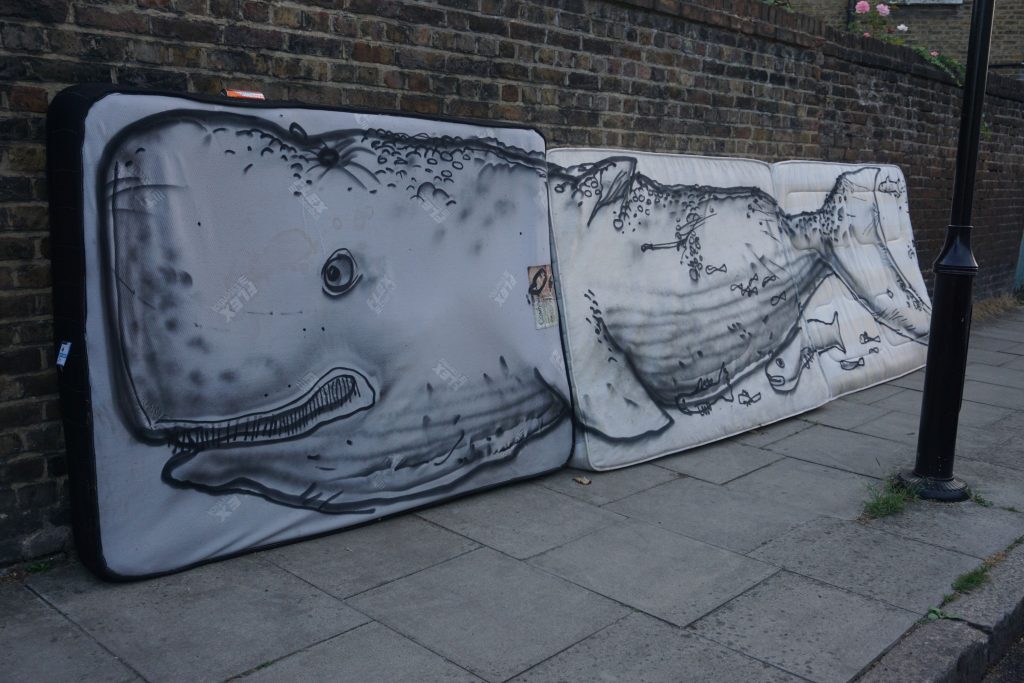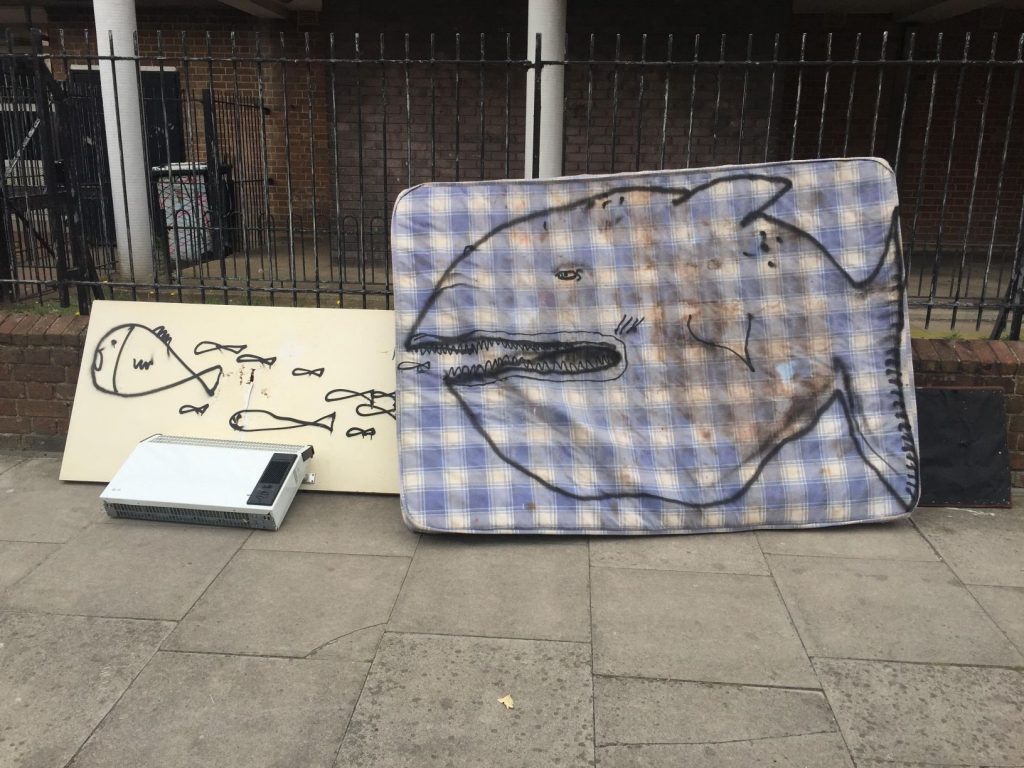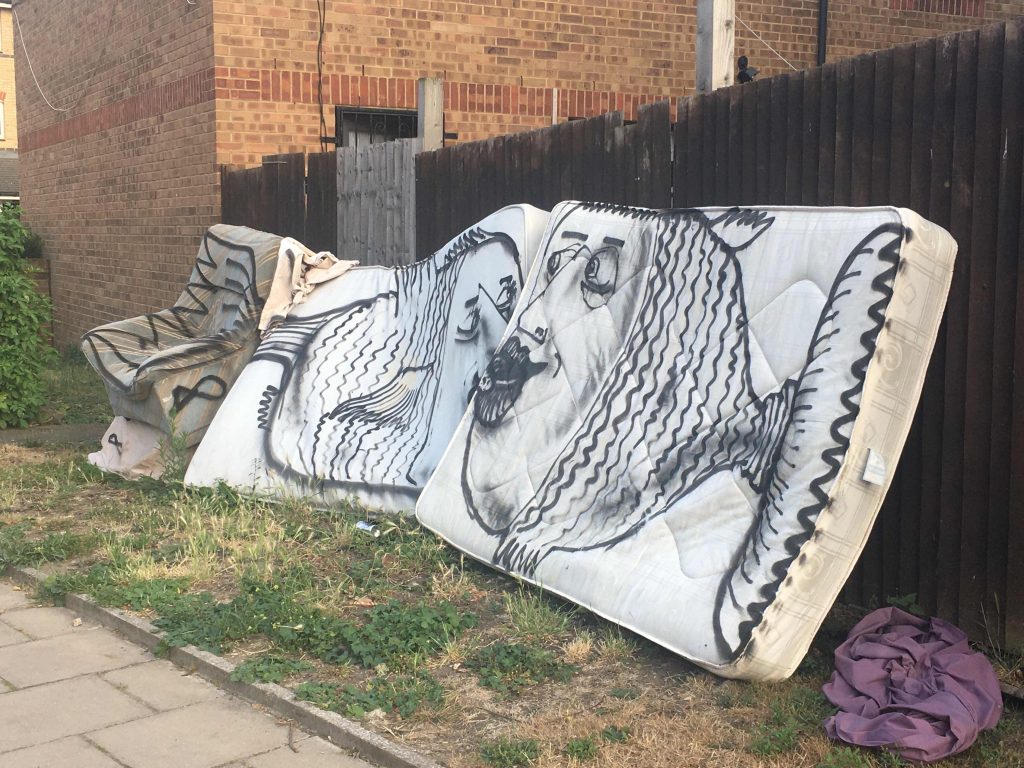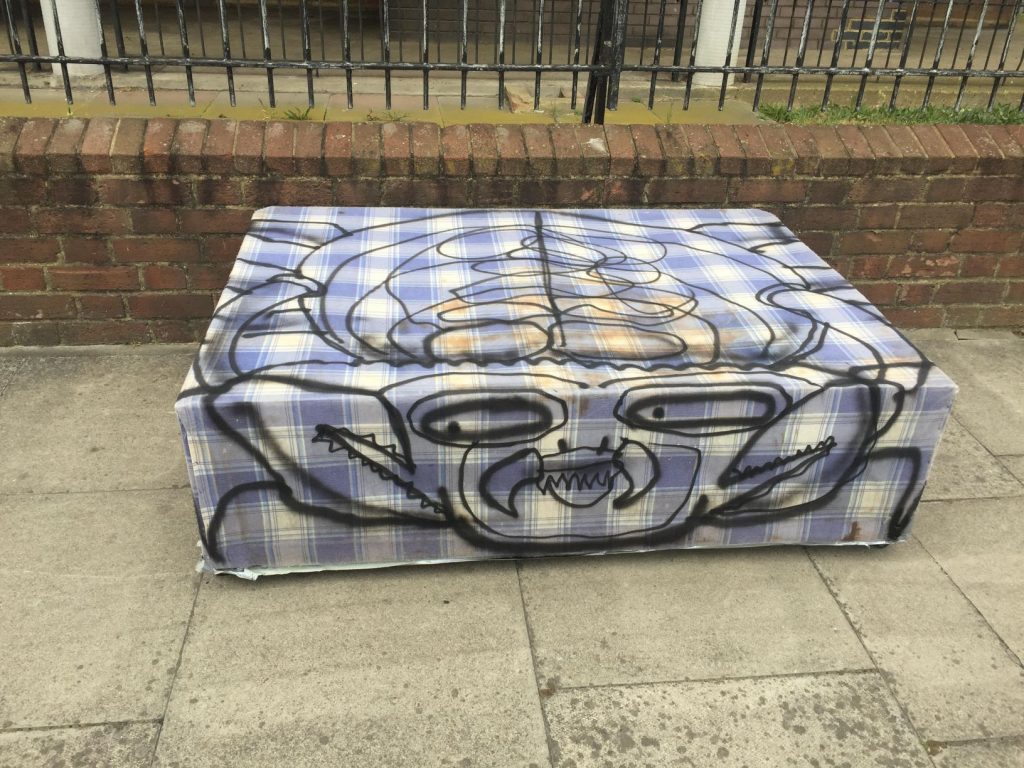 Then there was photocopy man. Photocopy man, a Hatcham resident, used a simple printer to create a portal into another world on Sainsbury's wall. He was considerate, taking down the paper after it rained and turned into pulp.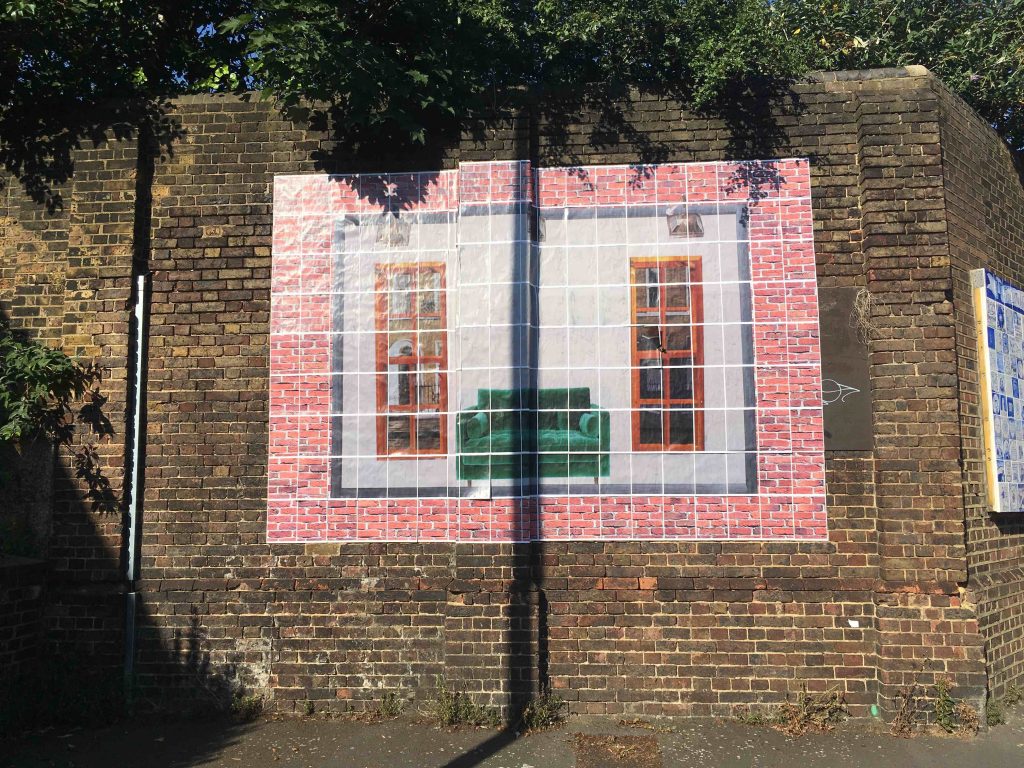 Flys love a good tip, a fact not lost on the brilliant Barnie Emma. Harts Lane is a real hot spot for public wee-ers who like to get their hobbly nobblies out with no shame, especially when it's warm. Barnie, who also produced the brilliant Charles Dickens piece off Hatcham Park Road which forms the background to the website, tragically lost her partner to lung cancer and created a wonderful series of illustrations on grief. Anyone who has lost someone close to them can empathise with the little snaily.
The amazing Matlakas is BACK! His beautiful mural, a Guernica-esque masterpiece, adorned the wall by the second-hand store on New Cross Road a few years ago. Believe it or not, this area is still part of the Hatcham conservation area. It was sad to see the white and black mural be covered up but I noticed a new Matlakas piece earlier this month. There's a definite fly theme going on in Hatcham but I guess that's because we're going through a shitty time. My hand and camera got stuck in the fence posts taking the photo raising some eyebrows from passersby.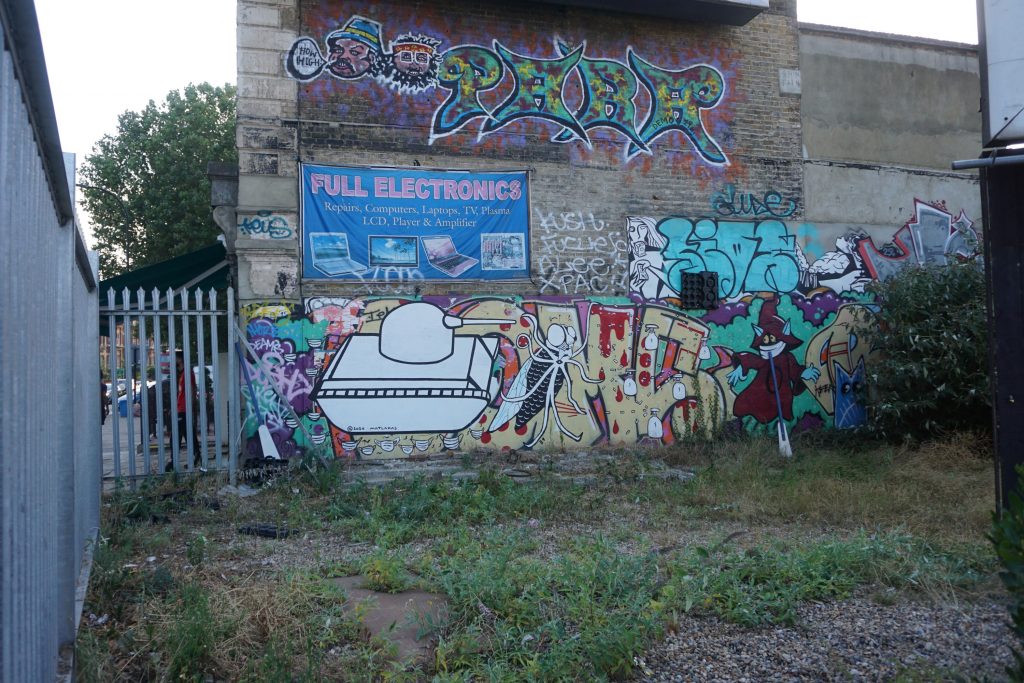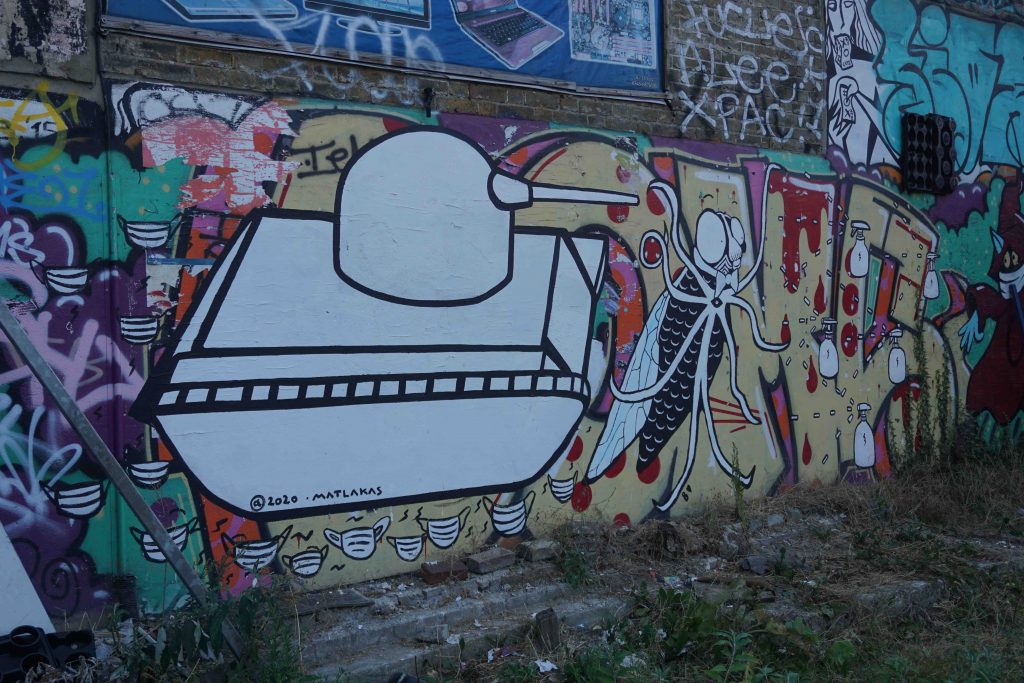 This was the brilliant mural which was once there by Matlakas…

We're so lucky to have so many wonderful artists in Hatcham. I'm hoping to write a seperate post on the artists behind window 135 New Cross Road soon….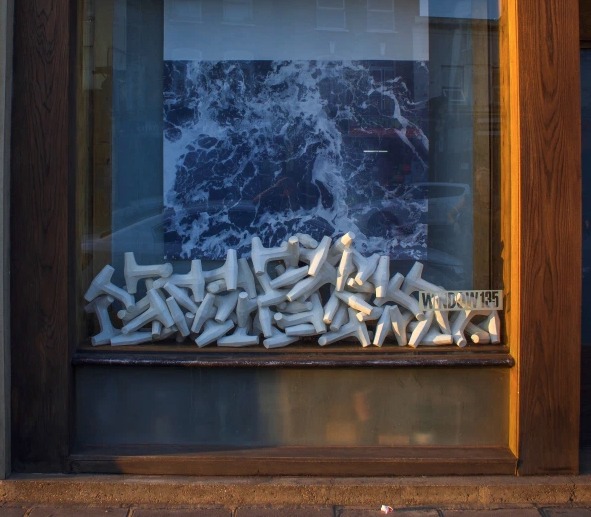 Have I missed any art that has sprung up in Hatcham? Do you know who Pascal is ? Let me know in the comments!