From our friends at hARTslane studios:

Take part in the "Bunting of Hope" at Eckington Gardens!

After nearly a year of national lockdown, hARTslane invites the people of Hatcham to spread kindness and hope within the community through The Bunting of Hope.

The project is inspired by the Tibetan prayer flags typically carrying mantras (sacred words) for peace, compassion, good fortune, strength or wisdom.
They can be found over mountain passes and along mountain ridges. Tibetans believe that these flags bless the air with their mantras and their messages of goodwill are carried with the wind and spread to the rest of the world.
The Bunting of Hope at Eckington Gardens is open to local residents and creative people, young and old, with a reassuring or uplifting message or words of wisdom to share and to brighten someone's day. No need to be an artist, this is an opportunity for everyone to be creative, whilst upcycling old clothes and fabrics.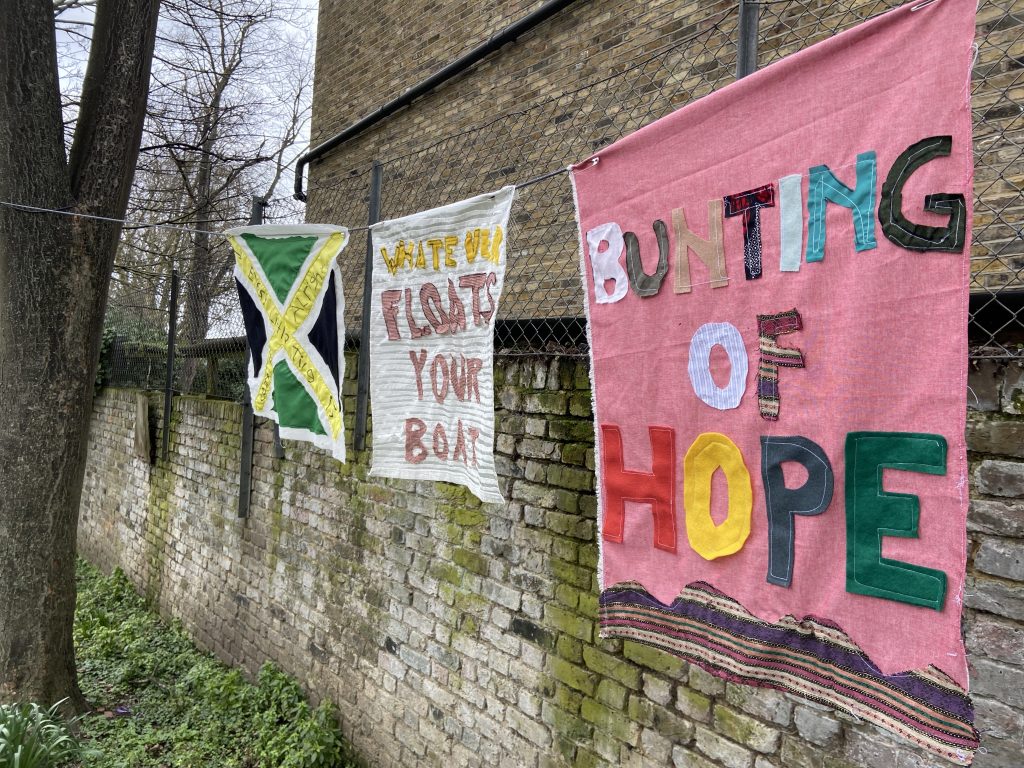 There are many ways to be part of it:

Make your own Bunting of Hope flag (approximately 30x40cm) at home and pin it to the bunting line using safety pins or thread & needle.
You have an idea but not the sewing material? hARTslane can provide you with that if you send an email to: info@hartslane.org
You'd like to take part but don't know how to sew? Send an email with your idea/quote and hArtslane's team will visualise it on the fabric for you.
Watch the video tutorial here (https://youtu.be/5TZh-4pXOVs) to discover how you can
make a flag for the Bunting of Hope.
MORE INFO:

DATES: The Bunting of Hope will be up from 6th – 31st of March 2021
LOCATION: Eckington Gardens, near Casella Road entrance, SE14 5QN
SOCIAL: Take a picture and tell us what you think on Instagram #buntingofhope
hARTslane
Based in Hatcham, hARTslane is a socially engaged art organisation with a focus on engagement and participation. You may know them through the wonderful "100 Wishes of Hatcham", a ceramic Delft blue wall at the bottom of the ramp to Sainsbury's made with the creative community of Hatcham.