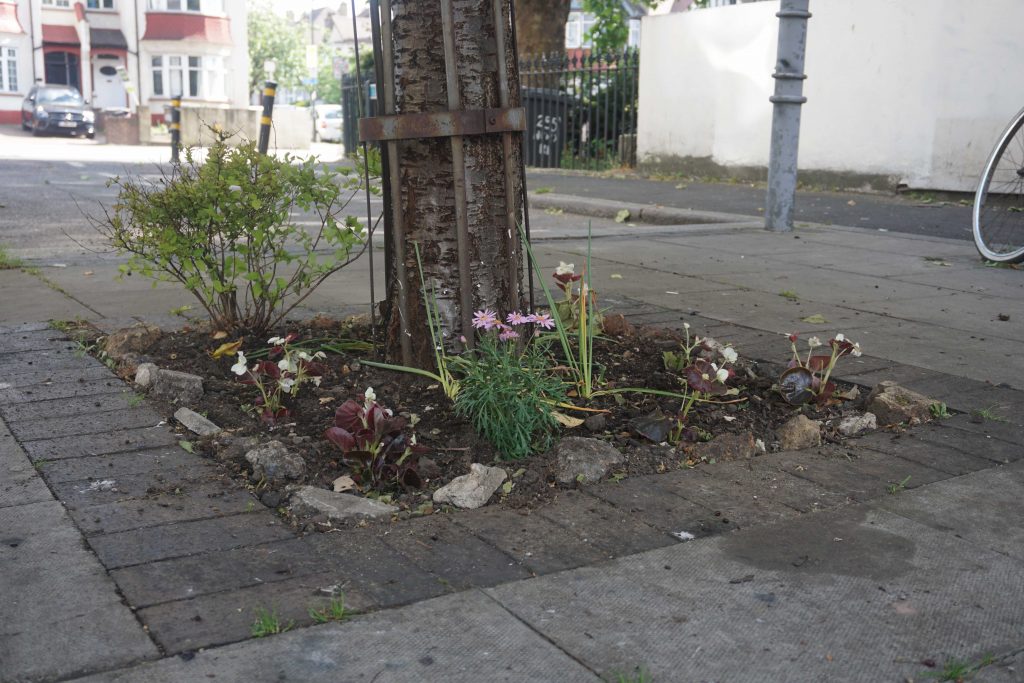 On Monday, I noticed that someone had planted some flowers and a shrub under the beautiful cherry tree which marks the beginning of Hatcham to the east. This patch of land is usually dominated by rubbish or a broken washing machine – gifts from unscrupulous fly-tippers.
I said a silent "thank you" to the anonymous green-fingered Hatchamite who had used some of their time to try to make this patch of land a bit more bearable.
Today, I decided to leave my mark on the soil. I dug a small hole and placed a pink flower I bought from the junk shop in New Cross Road into one corner. I picked out some broken pieces of glass, cigarette butts, and old terracotta pieces from the soil and scraped off some dirt from the surrounding pavements with a stiff brush.
As I crouched on the ground, watering can in my hand, a plump starling sat on the branches of the cherry tree to pick out some fruit to eat.
I was surprised by the remarks I received from various people cycling by. "It's beautiful," "good job", "wow". I felt guilty for taking credit for the work someone else had started.
I believe the Hatcham Conservation society should strive to make our area accessible and more beautiful for locals. We've long campaigned for a redesign of this section of Harts Lane to make it easier for cyclists, those with prams and wheelchair users to access Hatcham. There's currently no dropped curb here making it impossible for wheelchair users to fit through the narrow pavement when it's clogged with rubbish.
Lewisham council has around £260,000 to spend in New Cross. This is all money from the "community infrastructure levy", a sort of tax developers have to pay to the local authority to have a development approved. We have asked for some of this money to go into this part of Hatcham.
A parklet – a parking space which has been transformed into a mini park – could also be wonderful in this spot of Hatcham. It would provide a place for nature to have a home and people to sit down and rest on their way home from shopping or work.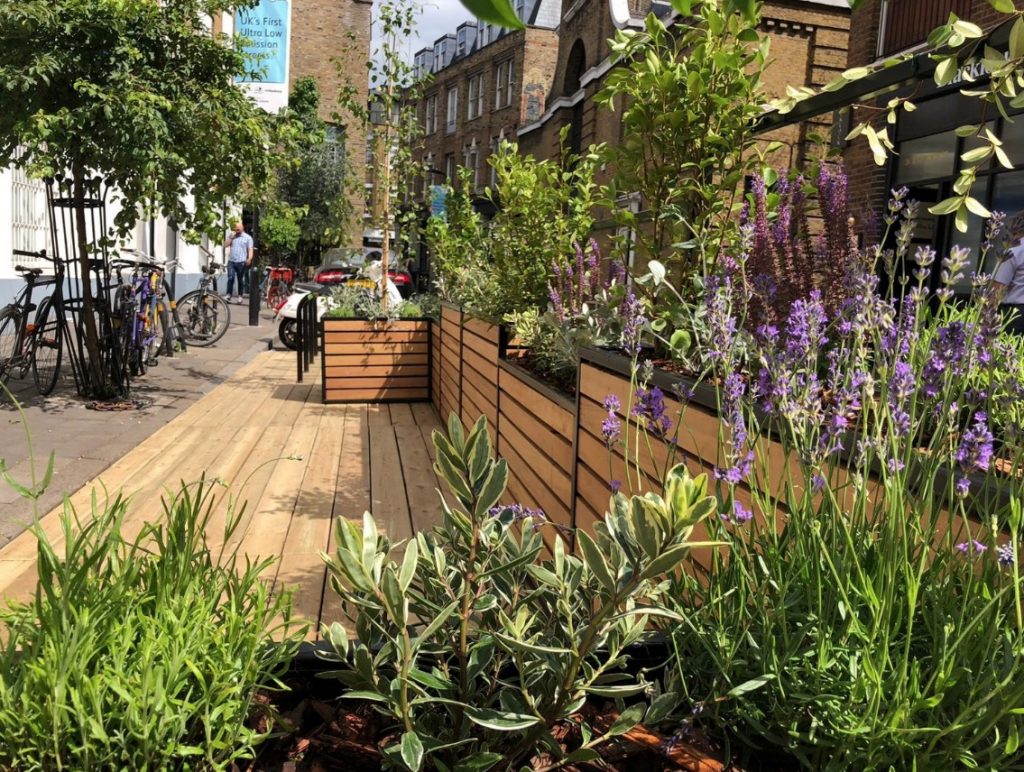 The design company, Meristem, makes wonderful parklets. They have a form on their website where people can request them here. It's not known whether the local authority will have to pay for them or if the design company offers them for free. But it might be worth applying if you have the time.
In the meantime, residents should take matters into their own hands. There are dozens of other tree pits in Hatcham waiting to be spruced up with some hardy plants. Guerilla gardening is not a new thing – it's been happening for decades. Why not take a handful of wildflower seeds and bury them on a desolate patch of public land? The bees will thank you. Just make sure you water the plant.
Is there anywhere else in Hatcham you think would benefit from a parklet or better road design? Perhaps a parklet would be useful on New Cross Road where it's extremely congested? Please give your suggestions in the comments or email Emily@Hatchamsociety.com