The Town Hall released their draft supplementary planning document for New Cross Gate back in October 2019 – we're still waiting for the consultation results which have been understandably delayed due to the Covid 19 outbreak. But I think it's important to refresh residents' memories of the horrors within the plans.

What worries us currently is the proposed changes as outlined in the draft Supplementary Planning document which can be downloaded here.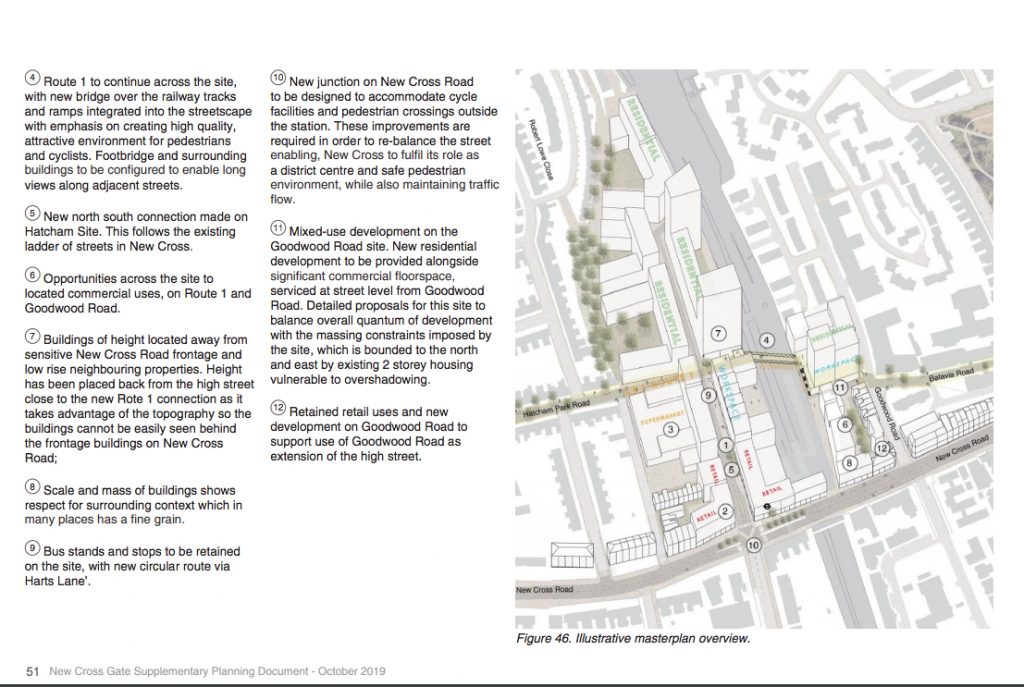 These changes propose the re-opening of Harts Lane and Hatcham Park Road to traffic from New Cross Road to service the new development called Hatcham works (currently where the Dreams and TK Maxx are located). They also propose a bus stand on Harts Lane and "secondary access" for cars into Hatcham works through Hatcham Park Road. If these plans go ahead, it will prove devastating for Hatcham in terms of air quality and noise.
What the Covid outbreak has shown us in recent weeks is the dire need for unpolluted residential streets. As laid out in the Guardian earlier this month, higher Covid-19 death rates are more prevalent in areas with high levels of air pollution. Pollution damages the lungs and heart which makes the virus far more deadly.
Nettleton Road and Harts Lane were closed to through-traffic back in 2004 after a resident-led campaign to improve the quality of life in the area. Longstanding residents have told us about how awful it was to live in Hatcham with thousands of cars and lorries using the residential streets as a shortcut to Bermondsey every day.
Supplementary planning documents "add further details" to Local Plans and are considered "material considerations". These documents offer practical guidance on how a Local Plan can come into existence. The New Cross Area Framework Local Plan was approved by the council back in April 2019. Sadly, the Hatcham Society was not yet in existence back then and many residents weren't even aware of the council's plans and were not able to input their views during the consultation stage. The aim of the New Cross Area Framework is to promote the Bakerloo line extension into New Cross Gate and to create new housing around the expanded station alongside the promotion of a new supermarket. We see this as a positive change – Lewisham is in desperate need of genuinely affordable housing and better travel infrastructure which promotes fewer cars on the roads. But this should not come at the expense of ruining the lives of residents in Hatcham. We believe that any traffic coming into the new Hatcham Works should do so directly from New Cross Road and not quiet side streets.
It is highly doubtful that a Bakerloo line extension will happen within the next decade given the dire state of TFL's finances that has seen a £1 billion bailout package from the government. It would be awful if these road changes are imposed on long before any development of the site.
The Hatcham Conservation Society provided a comprehensive response to the council's supplementary planning document consultation months ago. We also gathered 111 signatures from residents against the plans of re-opening up any of our roads to extra traffic.
To keep updated about how the council responds, please sign up to our mailing list or join our Facebook group.